My Blog
Posts for: June, 2017
By Stewart Dental
June 25, 2017
Can you have healthy teeth and still have gum disease? Absolutely! And if you don't believe us, just ask actor David Ramsey. The cast member of TV hits such as Dexter and Arrow said in a recent interview that up to the present day, he has never had a single cavity. Yet at a routine dental visit during his college years, Ramsey's dentist pointed out how easily his gums bled during the exam. This was an early sign of periodontal (gum) disease, the dentist told him.
"I learned that just because you don't have cavities, doesn't mean you don't have periodontal disease," Ramsey said.
Apparently, Ramsey had always been very conscientious about brushing his teeth but he never flossed them.
"This isn't just some strange phenomenon that exists just in my house — a lot of people who brush don't really floss," he noted.
Unfortunately, that's true — and we'd certainly like to change it. So why is flossing so important?
Oral diseases such as tooth decay and periodontal disease often start when dental plaque, a bacteria-laden film that collects on teeth, is allowed to build up. These sticky deposits can harden into a substance called tartar or calculus, which is irritating to the gums and must be removed during a professional teeth cleaning.
Brushing teeth is one way to remove soft plaque, but it is not effective at reaching bacteria or food debris between teeth. That's where flossing comes in. Floss can fit into spaces that your toothbrush never reaches. In fact, if you don't floss, you're leaving about a third to half of your tooth surfaces unclean — and, as David Ramsey found out, that's a path to periodontal disease.
Since then, however, Ramsey has become a meticulous flosser, and he proudly notes that the long-ago dental appointment "was the last we heard of any type of gum disease."
Let that be the same for you! Just remember to brush and floss, eat a good diet low in sugar, and come in to the dental office for regular professional cleanings.
If you would like more information on flossing or periodontal disease, please contact us today to schedule an appointment for a consultation. You can also learn more by reading the Dear Doctor magazine article "Understanding Gum (Periodontal) Disease."
By Stewart Dental
June 10, 2017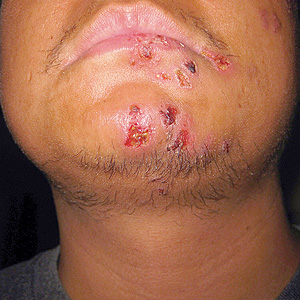 If you had chicken pox as a child, you're at higher risk for a painful viral infection later in life called shingles. Besides a painful skin rash and other symptoms that can develop, shingles could also affect your dental care.
About 90% of children contract chicken pox, a disease caused by the varicella zoster virus (VZV), which usually clears up on its own. But later in life, usually after age 50, about a quarter to a third of chicken pox patients will develop shingles.
The onset of shingles usually produces an itching or burning sensation on the skin that's either numb or overly sensitive to the touch. A red rash may ensue with crusty lesions, accompanied sometimes by pain, fever and fatigue. The rash often forms a belt-like or striped pattern along one side of the face or body.
For most patients this painful rash is the extent of their symptoms. But women who are pregnant, patients undergoing cancer treatment or people with compromised immune systems are at risk for more serious complications if they contract the disease. It's important for these at-risk patients to obtain a vaccination, as well as avoid contact with anyone with shingles.
Which brings us to your dental care: in its early stages shingles can be contagious, the virus passing to others through skin contact or by airborne respiratory secretions. That's why it's important if you're currently experiencing a shingles episode that you let us know before undergoing any kind of dental work.  Even a routine teeth cleaning with an ultrasonic device could disrupt the virus and increase the chances of it spreading to someone else. We may need to postpone dental work until the virus is under control.
Antiviral drugs like acyclovir or famciclovir are highly effective in bringing the disease under control, especially if treatment starts within three days of the onset of symptoms. And don't forget the shingles vaccination: the U.S. Center for Disease Control recommends it for anyone 60 or older regardless of a past history with chicken pox.
See your physician as soon as possible if you begin to notice symptoms. Don't let shingles interfere with your life — or your dental care.
If you would like more information on the impact of shingles and similar viruses on dental care, please contact us or schedule an appointment for a consultation.