My Blog
Posts for: September, 2018
By Stewart Dental
September 12, 2018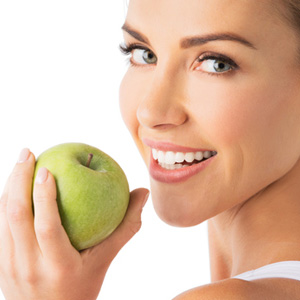 If you're brushing and flossing daily, as well as seeing your dentist at least every six months, you're doing the top things needed to maintain your dental health. But all your hygiene efforts could be undermined if you're not eating a dental-friendly diet. Simply put, there are foods that protect and promote dental health and those that increase your risk of dental disease.
Diets in the latter category are typically high in added sugar and low in natural food fiber. The largest sources of these are processed sugars from sugar cane or beets and high fructose corn syrup. With just a little knowledgeable label reading, you can find sugar and its various aliases added to thousands of processed food items including pastries, candies, sodas and energy drinks.
Heavy consumption of processed sugars also contributes to dental disease. Disease-causing bacteria thrive on sugar as a food source, which fuels both their growth and their production of oral acid. Elevated acid levels can dissolve the minerals in tooth enamel faster than saliva can keep up. Softened enamel opens the door to tooth decay, while increased bacterial growth can lead to periodontal (gum) disease.
A diet, however, low in added sugar and high in fiber can have the opposite effect. Although fresh fruits and vegetables contain natural sugars, they also have indigestible parts called fiber that slow the digestion of any sugars and allow the body to more efficiently process them.  With the higher quantity of vitamins and minerals found in unprocessed foods, the overall effect of this diet is a decrease in your risk for dental disease.
Speaking of dental-friendly foods, we should also give honorable mentions to certain dairy items like cheese and milk that stimulate saliva production and are rich in calcium needed for tooth strength. Another beneficial category is both black and green tea, which contain antioxidants to fight disease and fluoride to strengthen enamel.
Adopting a low-sugar/high-fiber diet can have a profound impact on your overall health. Over time, you'll also reap dental health rewards with stronger teeth and gums and a lower risk of tooth decay and gum disease.
If you would like more information on diet and oral health, please contact us or schedule an appointment for a consultation. You can also learn more about this topic by reading the Dear Doctor magazine article "Nutrition & Oral Health."
By Stewart Dental
September 02, 2018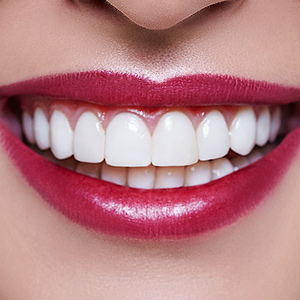 If your smile is, to put it mildly, "unattractive," you may think only extensive and expensive dental work can change it. But depending on your teeth's actual condition, you might be able to obtain a new smile with a less-invasive option: porcelain veneers.
As their name implies, veneers are thin layers of dental porcelain bonded to the front of teeth to cover imperfections. They're custom designed and manufactured by a dental technician to match the natural color, shape and size of the teeth they're covering and to blend with neighboring teeth.
Veneers are quite effective for heavily stained, chipped or moderately misaligned teeth that are otherwise healthy. They can even be used to address slight gaps between teeth and restore worn teeth to make them appear larger and more youthful.
Overall, they're less invasive than other dental restorations. That said, though, most veneers will still require some alteration of the affected teeth. This is because although quite thin they can still appear bulky after they're bonded to the teeth. We can minimize this by removing a small amount of a tooth's outer enamel. While this alteration is modest compared to other restorations, it's nonetheless permanent– your teeth will require some form of restoration from then on.
Veneers also require special consideration while biting. You'll need to exercise care and avoid biting hard items like candies (or using your teeth as tools) or the veneer could break. Similarly if you have a teeth grinding habit, you may want to consider having a custom guard created that you wear at night to prevent solid contact between your teeth. The excessive force generated while grinding or clenching teeth could also shatter veneers.
Veneers may not be the answer in all cosmetic dental situations, such as extensive disfigurements or bite problems. To know for sure if your particular dental condition could benefit, see your dentist for a complete dental examination and discuss whether obtaining veneers is a viable option for you. If so, you may be able to gain a much more attractive smile from this less invasive but no less effective option.
If you would like more information on porcelain veneers and other dental restorations, please contact us or schedule an appointment for a consultation. You can also learn more about this topic by reading the Dear Doctor magazine article "Porcelain Veneers: Strength & Beauty as Never Before."