My Blog
Posts for tag: tooth pain
By Stewart Dental
May 14, 2020
Let's say you have a diseased tooth you think might be on its last leg. It might be possible to save it, perhaps with a significant investment of time and money. On the other hand, you could have it replaced with a life-like dental implant.
That seems like a no-brainer, especially since implants are as close as we have to natural teeth. But you might want to take a second look at salvaging your tooth—as wonderful as implants are, they can't beat the real thing.
Our teeth, gums and jaws form an intricate oral system: Each part supports the others for optimum function and health. Rescuing a troubled tooth could be the best way to preserve that function, and replacing it, even with a dental implant, a less satisfying option.
How we save it will depend on what's threatening it, like advanced tooth decay. Caused by bacterial acid that creates a cavity in enamel and underlying dentin, decay can quickly spread into the tooth's pulp and root canals, and eventually threaten the supporting bone.
We may be able to stop decay and save the tooth with a root canal treatment. During this procedure, we remove diseased tissue from the pulp and root canals through a drilled access hole, and then fill the empty spaces. We then seal the access and later crown the tooth to protect it against future infection.
A second common threat is periodontal (gum) disease. Bacteria in dental plaque infect the outer gums and, like tooth decay, the infection quickly spreads deeper into the root and bone. The disease weakens gum attachments to affected teeth, hastening their demise.
To treat gum disease, we manually remove built-up plaque and tartar (hardened plaque). This deprives the infecting bacteria of their primary food source and "starves" the infection. Depending on the disease's advancement, this might take several cleaning sessions and possible gum surgery to access deep pockets of infection around the root.
Because both of these treatment modalities can be quite in-depth, we'll need to assess the survivability of the tooth. The tooth could be too far gone and not worth the effort and expense to save it. If there is a reasonable chance, though, a rescue attempt for your troubled tooth might be the right option.
If you would like more information on whether to save or replace a tooth, please contact us or schedule an appointment for a consultation. You can also learn more about this topic by reading the Dear Doctor magazine article "Save a Tooth or Get an Implant?"
By Stewart Dental
May 30, 2019
When they're introducing a new movie, actors often take a moment to pay tribute to the people who helped make it happen — like, you know, their dentists. At least that's what Charlize Theron did at the premiere of her new spy thriller, Atomic Blonde.
"I just want to take a quick moment to thank my dentists," she told a Los Angeles audience as they waited for the film to roll. "I don't even know if they're here, but I just want to say thank you."
Why did the starring actress/producer give a shout-out to her dental team? It seems she trained and fought so hard in the action sequences that she actually cracked two teeth!
"I had severe tooth pain, which I never had in my entire life," Theron told an interviewer from Variety. At first, she thought it was a cavity — but later, she found out it was more serious: One tooth needed a root canal, and the other had to be extracted and replaced with a dental implant — but first, a bone grafting procedure was needed. "I had to put a donor bone in [the jaw] to heal," she noted, "and then I had another surgery to put a metal screw in there."
Although it might sound like the kind of treatment only an action hero would need, bone grafting is now a routine part of many dental implant procedures. The reason is that without a sufficient volume of good-quality bone, implant placement is difficult or impossible. That's because the screw-like implant must be firmly joined with the jawbone, so it can support the replacement tooth.
Fortunately, dentists have a way to help your body build new bone: A relatively small amount of bone material can be placed in the missing tooth's socket in a procedure called bone grafting. This may come from your own body or, more likely, it may be processed bone material from a laboratory. The donor material can be from a human, animal or synthetic source, but because of stringent processing techniques, the material is safe for human use. Once it is put in place your body takes over, using the grafted material as a scaffold on which to build new bone cells. If jawbone volume is insufficient for implants, it can often be restored to a viable point in a few months.
Better yet, when grafting material is placed in the tooth socket immediately after extraction, it can keep most of the bone loss from occurring in the first place, enabling an implant to be placed as soon as possible — even before the end of a movie's shooting schedule.
Will Atomic Blonde prove to be an action-movie classic? Only time will tell. But one thing's for sure: When Charlize Theron walks down the red carpet, she won't have to worry about a gap in her smile.
If you have questions about bone grafting or dental implants, please contact our office or schedule a consultation. You can read more in the Dear Doctor magazine articles "Dental Implant Surgery" and "Immediate Dental Implant."
By Stewart Dental
October 24, 2015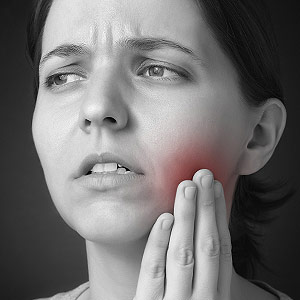 Determining which of your teeth is causing your toothache isn't always easy — or even if it's a tooth at all. The pain could be coming from a tooth, the gums, or both. Only a thorough dental examination can pinpoint the exact cause and best course of treatment.
If a decayed tooth is the problem, the pain may be coming from nerves and other tissue deep within the tooth's pulp. The symptoms could be dull or sharp, constant or intermittent, specific to one area or spread out. It's even possible for the pain to suddenly subside after a few days. This doesn't mean the infection has subsided, but rather that the infected nerves have died and no longer transmit pain. Pain can also radiate from the actual source and be felt somewhere else — the pain in your sinuses, for example, could actually originate from an infected back tooth.
If the source is periodontal (gum) disease, the infection has begun in the gum tissues. As they become more inflamed they lose their connectivity with the teeth, bone loss occurs and the gums may "recess" or draw back. This exposes the tooth root, which without the protective cover of the gum tissues becomes highly sensitive to changes in temperature or pressure. As a result you may encounter sharp pain when you eat or drink something hot or cold, or bite down.
Treating these issues will depend on the actual infection source. An infected tooth often requires a root canal treatment to clean out the pulp and root canals of dead or infected tissue, fill them with a special filling, and seal and crown the tooth to prevent future infection. If the source is gum disease, we must manually remove the bacterial plaque causing the disease from all tooth and gum surfaces to stop the infection and allow the gums to heal. In advanced cases, surgical procedures may be necessary to repair damage and encourage new gum and bone growth.
Where dental disease has spread from tooth to gums or vice-versa, you may need treatments for both areas to address your overall condition. Whatever the treatment course, we can put an end to your tooth pain and restore health to your teeth and gums.
If you would like more information on the sources of mouth pain, please contact us today to schedule an appointment for a consultation. You can also learn more about this topic by reading the Dear Doctor magazine article "Confusing Tooth Pain."